Your first time to one of our lots can be somewhat overwhelming. Park in the designated area, and
come on inside. Our staff will answer your questions to help you understand the product you need.  Next, we will help you calculate the quantity needed for your project. Finally, staff will instruct you on where to move your vehicle to get loaded. Once you have left the office, you can also follow signs to our loading zone, or just follow in line behind the vehicles waiting to be loaded. Once you are loaded, our operator will let you know he's done, and then you can exit our lot.
If you schedule a delivery, we will call you approximately 30-45 minutes prior to our arrival to let you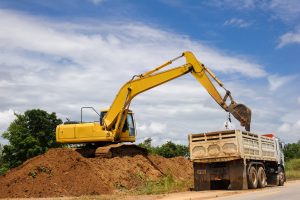 know we are on our way. When our driver arrives, he will greet you and ask for a signature to "receive" the product being delivered. Next, show the driver where you'd like the product placed. Please keep in mind our truck will not come off the pavement. The weight of the truck, coupled with the weight of the material they are carrying, will leave deep trenches in your yard.